Did you see? Did you see?
3-6 Free Resources is having
it's first giveaway!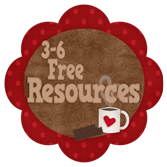 And its
H~U~G~E!!!
Gift cards to Amazon, Starbucks, & Target!
TpT items for free!
And a coupon for a blog makeover!
Plus it has this amazing logo
that looks like its made out of
CHOCOLATE
from the 3AM Teacher!
They are celebrating that we all survived standardized testing and for me... Summer is only 18 days away (but who is counting!). I sooooooooo want to enter but since 3-6 is my other baby, one of you will just have to win for me instead.